Facebook Instant Article Emulator
Facebook roll out Instant Articles
May 2015 saw the launch of Facebook's Instant Articles, allowing a selection of publishers to deliver a much faster reading experience. Distinguished from other content by a small lightning bolt icon, Instant Articles are known for loading up to ten times faster in people's newsfeeds.
Initially available to specific partners only – including BBC News, National Geographic, BuzzFeed and a handful of others – last month Facebook announced Instant Articles would finally be available to all publishers.
A welcome move
Despite concerns over the impact of Instant Articles on website traffic, the roll out has been welcomed by publishers and readers alike. With the average mobile load time sitting at eight seconds for web content, Instant Articles have opened the door to much faster speeds (less than a second!)
Instant Articles also put publishers' minds at ease, safe in the knowledge the content they post will load quickly. And with readers gaining rapid access to the articles they want, the content is much more likely to be consumed, enjoyed and shared.
Make previewing easier
At Parallax, we manage blogs for a number of our clients, so we've been experimenting with Instant Articles since they became available. We found once our blog posts were written, previewing them as Instant Articles was a bit tedious, as Facebook needs to digest an RSS feed with your article in it and then you have to switch to your iPhone to preview the post on the Pages Manager app. So we put together an emulator stylesheet to make things easier.
The emulator allows you to preview your Instant Articles on your website as soon as you've created them, rather than relying on Facebook's iOS Page Manager app. And it's really easy to use:
Create a new template for your blog posts – use Facebook Instant Articles Document Structure to dynamically feed in your content.
Use the emulator SCSS to display your content as it will appear in Facebook Instant Articles.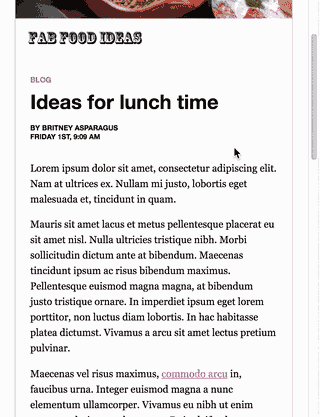 Try our Facebook 'Instant Article' emulator for yourself here. If you find it as useful as we have, let us know!